Nicki Bloom
Drehbuchautorin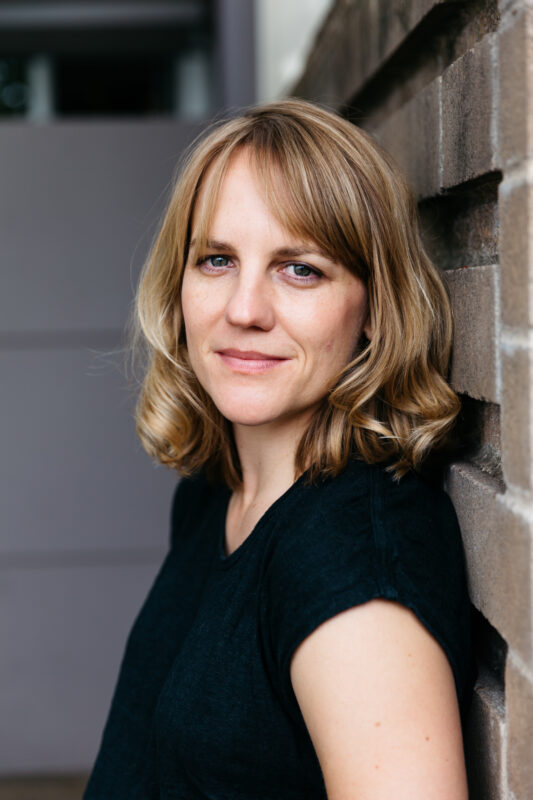 Filmografie
2022
A thin line
Drehbücher mit Steffi Ren, Damian John Harper und Jonas Weydemann
Serie Produktion Weydemann Bros. Sender Paramount+ Headautorin Steffi Ren Regie Damian John Harper
Theater
2017
Emil und die Detektive
Autorin
nach dem gleichnamigen Roman von Erich Kästner
Slingsby: Dazzeland Adelaide; MLive Monash, Melbourne; China, Indien, UK, Irland, USA und Australien Tour; Parramatta Riverside and Sydney Opera House
2016
Der junge König
Autorin
nach dem gleichnamigen Märchen von Oscar Wilde
Slingsby and Adelaide Festival; New Victory NYC; Nord Amerika, UK, Irland, Canada und Australien Tour
2015
Vale
Autorin
NIDA, Bangarra Studio Sydney; State Theatre Company of South Australia
2014
Little Bird
Autorin
State Theatre Company of South Australia and the Adelaide Cabaret Festival; Arts Centre Melbourne
2012
The Sun and The Other Stars
Autorin
National Play Festival Showcase
Land & Sea
Autorin
Brink Productions, Queens Theatre Adelaide
2010
Romeo & Julia
Autorin
nach der Tragödie von William Shakespeare
State Theatre Company of South Australia
2009
Bloodwood
Autorin
Sydney Writers' Festival Showcase
2008
Gespenster
Autorin
nach dem gleichnamigen Drama von Henrik Ibsen
State Theatre Company of South Australia
2007
Tender
Autorin
Belvoir Street Theatre, a nowyesnow production; Hothouse Theatre, Albury; Griffin Theatre Company; Summer Play Festival New York City, at the Public Theater; Metro Arts Brisbane
In Entwicklung
The mysterious death of Jacob Wolf
Creator und Drehbuch
Serie Produktion Amusement Park Film, Federation Entertainment und Pulse Films
Hansen
Headautor
Serie Produktion Zurich Avenue
Hotel Bergmann
Headautorin
Serie Produktion Amusement Park Film
N.N.
Autorin
Theaterstück Produktion Red Line Productions Regie Justin Martin
Auszeichnungen
2018
Emil und die Detektive
Helpmann Award Auszeichnung Beste Kindervorführung
2015
Little Bird
AWGIE Auszeichnung Beste Autorin Musiktheater
2012
The Sun and The Other Stars
Adelaide Festival for Literature Auszeichnung Barbara Hanrahan Fellowship
A cathedral
Adelaide Festival for Literature Auszeichnung Jill Blewitt Playwrights Award
2008-2009
Bloodwood
2009 Inscription Award
2008 Patrick White Playwrights' Award
2006-2007
Tender
2007 Inscription Chairman's Auszeichnung für Bestes Theaterstück
2006 Adrian Consett Stephen Memorial Preis
2006
Something Greater Than All of This
Henry Lawson Prize for Prose
Biografie
Nicki Bloom wurde 1984 in Sydney, Australien geboren und ist eine mehrfach preisgekrönte Autorin für Bühne, Leinwand und Prosa.
Ihre Theaterstücke wurden in Theatern und auf Festivals in ganz Australien, Neuseeland, dem Vereinigten Königreich, Irland, den Vereinigten Staaten von Amerika, Kanada, China und Indien aufgeführt.
2008 absolvierte Nicki Bloom ein 8 wöchiges deutschsprachiges Stipendium vom Goethe Institut in Berlin und 2009 wurde sie vom Goethe Institut zum Theatertreffen eingeladen, als eine Delegierte von 40 Theaterschaffenden unter 40.
Nicki Bloom lebt und arbeitet in Berlin.
PDF